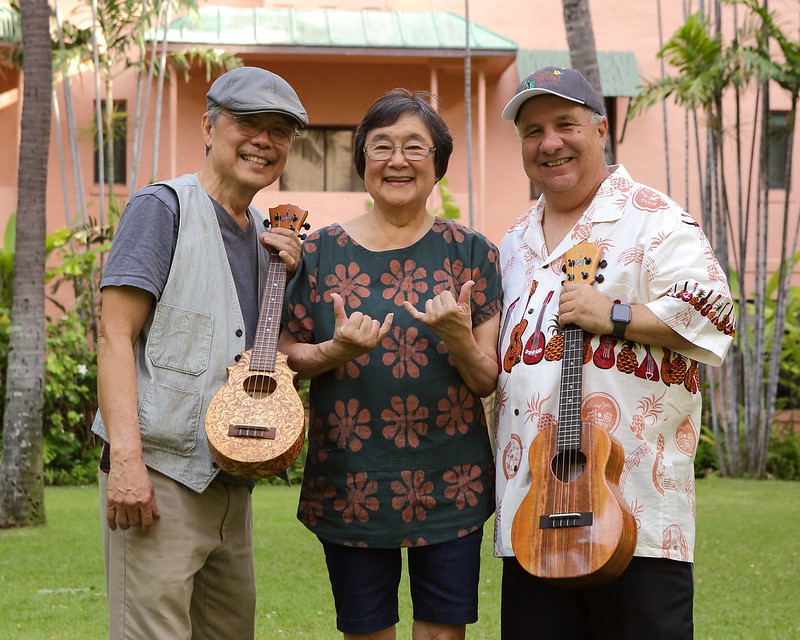 Thought you might like to see the people behind UKESA Hawaii. Pictured below are Master Luthier Alvin "Popaloha" Okami and his wife of 52 years, Pat "Moms" Okami from the Island of Oahu, and Ed Fiscella, from the Island of New Jersey. Alvin and Pat are the founders of KoAloha Ukulele, and Ed is the founder of Mainstage Center for the Arts, in Gloucester Township, New Jersey. How these three got together will be featured in a number of upcoming posts.
Pops is the creative genius at UKESAHawaii.com. Moms handles the business, and Ed is the online guy for all communications and sales.
Pops says, "My talent, gift or whatever anyone might label it, is that the reason ideas come effortlessly in my brain is simply because my brain contains NOTHING! If my mind was filled with so many other things, ideas that wanted to come into my mind would have such a difficult time trying to squeeze itself in to get my attention. With a mind/brain that is empty, it would be a snap for any ideas floating around to see an empty brain and welcome itself right in without hardly exercising any strenuous effort.
Ed, you and Trish are the "brains" and I am the "brainless". What a great team we make:))))))"